The classic bathroom medicine cabinet is a simple and utilitarian must-have for some people, and a bulky eyesore for others. While medicine cabinets have come a long way with surface-mounted and recessed options, in some bathrooms, a simple or ornate mirror may make more sense. Are you split between installing a medicine cabinet versus a mirror for your remodel? At Crystal Shower & Bath Company, we understand how important every detail of your bathroom remodel is – and how personal every decision is. In this spirit, here are a few considerations to make if you're weighing the pros and cons of the medicine cabinet versus the mirror.
Storage: The most common reason for installing a medicine cabinet is simple: it offers more bathroom storage. If you're remodeling a guest or hallway bathroom, you may not need supplemental storage. In a master bath, on the other hand, you probably want as much storage as possible. Then again, bathroom vanities, cabinets, and niches can offer stylish closed and open storage comparable to medicine cabinet storage. If you decide to install a medicine cabinet, you'll want to make sure the size and dimensions cater to the objects you plan on storing. This is where you'll want to consult with your bathroom remodeler about specific measurements to ensure proper depth and shelf spacing.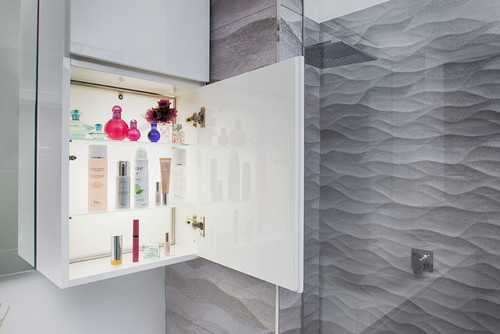 Accessibility: While you can store anything in bathroom closets and cabinets, medicine cabinets are wonderfully and easily accessible with over-the-sink storage right in front of you. You can't get storage in this spot with any other storage feature.
Privacy and Safety: If you have daily medication or supplements you want to keep tucked away and out of reach, the medicine cabinet is, of course, designed perfectly to suit this need. If you've got young ones in your family with curious fingers, a medicine cabinet is more out of reach than a bathroom vanity or visible open storage options.
Aesthetics: In terms of design, many people want to throw out the medicine cabinet for its clunky appearance, especially if it's surface-mounted. This is where recessed medicine cabinets make for a great happy medium. Recessed medicine cabinets are built into the wall and appear just as beautiful and unobtrusive as mirrors. Recessed medicine cabinets can also make for great built-in his-and-her storage in shared bathrooms, with one medicine cabinet over each sink.
For the Love of the Mirror: If you've fallen in love with a large mirror you just can't build into a medicine cabinet, you can also install a slant medicine cabinet for the best of both worlds. A recessed medicine cabinet can be installed in a side wall for storage, while the mirror you adore can take center stage above the sink.
Sold on the medicine cabinet? Now's the time to weigh the pros and cons of recessed versus surface-mounted cabinets. Opting for a mirror instead? There are so many inspiring bathroom mirror designs to choose from. Still have questions? Give us a call at Crystal Shower & Bath Company. We'll help you weigh all of the options for your bathroom remodel.